The overall GEOURBAN approach is shown below. GEOURBAN will explore the potential of EO to support urban planning and management by providing guidelines towards sustainability objectives at micro, local and regional scales, as well as towards climate change adaptation. These guidelines will be the result of the combination of several EO-based indicators using the web-based information system that will be developed. The web-based character of this tool makes it easily transferable from city to city and the indicators can be evaluated if EO data are available.
click on the following figure to view: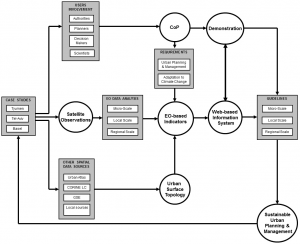 The EO data is the main input for GEOURBAN indicators. Well-known EO analysis methods will be used to calculate products from raw data. It should be noted that the development of new EO data processing tools is not among the objectives of GEOURBAN, but rather state of the art methods will be implemented. However, the end-user will be provided with guidelines on the implementation of a minimum set of these methods, capable of extracting the products that are needed in indicator estimation, if the EO raw data are available. These methods will be implemented off-line, therefore they will be not part of the information system; only the products will be used as inputs. Some of these indicators, especially in regional scale, could be evaluated by EO higher level products available on-line, such as MODIS Level-2 products. In this case, the indicator evaluation will be fully automatic. However, for micro-scale, where very high spatial resolution EO data are needed, the respective analysis will be implemented off-line by the consortium for the GEOURBAN case studies. This can lead to a new service after the completion of the GEOURBAN information system. Because the indicators will be easily transferable from city to city, however, the inputs needed in the estimation of some of these indicators will need to be produced off-line. It is therefore obvious that the private companies involved in GEOURBAN consortium can develop a new service for the urban planning community by supporting the information system implementation for scales that EO higher level products are not online available.
 Three cities with different typologies and planning perspectives are included as case studies: Tyumen (Russia), Tel-Aviv (Israel) and Basel (Switzerland).  The end-users at GEOURBAN case studies (local authorities, urban planers and decision makers) will be involved in the project from the beginning via a Community of Practice (CoP) approach. They will provide the consortium with requirements related to urban planning and management, as well as to adaptation to climate change. A sub-set of these requirements that can be supported by EO methods and data will be extracted after a round of CoP meetings in all case studies. A second round of CoP meetings, or an umbrella CoP, will be organized during the demonstration of the GEOURBAN information system. In the framework of the demonstration procedure, hands-on applications will be organized to give the end-users the opportunity to be familiarized with the final version of the information system.
 Since the adaptation of the system to future missions will be addressed, it is expected that a fully operational tool can be developed in the future. However, new services based on the GEOURBAN pre-operational information system can be developed for the urban planning and management community, as soon as this system is available.
 Major Project Milestones:
#

 Name

WP

Date

Comments

M.1

Kick-off meeting

1

Mar, 2012

Discussion on the Project Management Plan.

M.2

1st Progress Meeting

1,2,3,4,5,9

July, 2012

WPs 2, 4 and CoP meetings concluded.
Begin of WPs 3 and 5; web-site operation.

M.3

Mid-term Meeting

All

Dec, 2012

WP5 concluded; 1st Newsletter released.
Begin of WPs 6 and 7.

M.4

2nd Progress Meeting

1, 3, 6, 7

June, 2013

WP3 concluded; 2nd Newsletter released.
First release of the information system.

M.5

Information System Developed

7,8,9

Oct, 2013

WP7 concluded; begin of WP8
Final release of the information system

M.6

Final Meeting

All

Dec, 2013

WPs 8, 9 and demonstration event concluded
3rd Newsletter and Final Report released.
Planned WPs Activity: